This year marks the 49th death anniversary of Hong Kong martial arts superstar Bruce Lee. To honor the legacy of this legend in the history of film worldwide and pass on his philosophy and movie arts to the next generation, Sponsored by Payment Asia, Bruce Lee Club partners with PRIZM Group to recreate Lee's old home with VR technology and co-host an exhibition named "Revival of the Memory: Bruce Lee's Home in Metaverse".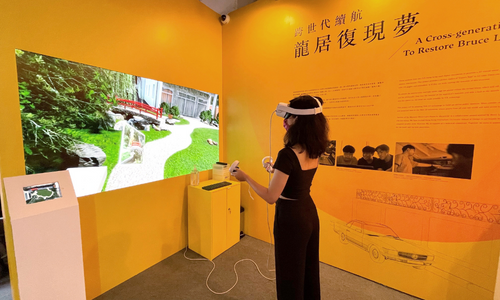 Wong Yiu-Keung, chairman of the Bruce Lee Club, said, "The building was firstly transformed into a hotel after Bruce Lee passed away, and was once planned to be converted into a memorial hall. Unfortunately, the plan was shelved after numerous attempts and the former home was demolished. We want people to know more about Bruce Lee's last trail via VR technology, and understand more about his 'Water Philosophy'. The project colloborates with universities and organizations including three young students hoping to pass on the Bruce Lee spirit from generation to generation in unrestricted formats."
Jeffery Hau, Director of PRIZM Group, said, "This exhibition showcases PRIZM's latest application of Web 3.0 technology, and we will have more collaborations with different brands in the future – imagining we can build attractions, host concerts in the Metaverse and interact with co-creators and audience. Bruce Lee is a representative of cultural exchanges between the East and the West. This exhibition hopes to revive the traditional culture with the enablement of Web 3.0 elements and pass on Bruce Lee's spirit to the next generation. As a digital marketing company, PRIZM will continue to embrace the latest technology to promote the cultural scenes."
Details about "Revival of the Memory: Bruce Lee's Home in Metaverse"
Exhibition date: August 6 – 14
Free Admission
Time: 11 am – 8 pm ( Sunday to Thursday)
           11 am – 9 pm ( Friday to Saturday)
Venue: Shop D, Soundwill Plaza, No.38 Russell Street, Causeway Bay
Check our website BruceLeeVerse.com for more VR preview and Bruce Lee collectibles details.
< Next post - Hong Kong Brands & Products Shopping Festival 2022
Prev post - The Digital Revolutions Taking Place in Southeast Asia >