A Crypto Payment Gateway Built for the Future Digital World
Cryptocurrency payment gateways are becoming a necessary element for businesses in the digital age, and merchants from around the world are just starting to come around. At the present, 32% of the SMEs in the United States accept Bitcoin, whereas Wikipedia, Microsoft, Expedia, AT&T, Burger King, KFC and Subway have also started integrating their own cryptocurrency payment gateway. Also, 25% of SMEs' owners are actively considering accepting Bitcoin in exchange for their goods and services, but lack an execution plan to use or adopt a crypto payment gateway.
A crypto payment gateway offers merchants and vendors the ability to accept payments in multiple cryptocurrencies without compromising security during the transaction. For users, this also means the convenience of being able to transfer funds directly from their cryptocurrency wallet to another wallet through it. Furthermore, these cryptocurrency payment gateways secure the transfer of sensitive data from the payer's wallet to the merchant's software. Business organisations of all sizes are increasingly adopting this payment network because it is at the same time profitable, secure, and instant.
The features of our crypto gateway include:
1. Comprehensive Payment System
Acceptance of major digital currencies (e.g. BTC) for online and offline payments
2. Supports Various Currencies
Acceptance of major digital currencies and payment in 6 major varieties
3. Reduces Risk
Instant locking of rate to minimise your risk
4. Quick Transaction Process
Allows withdrawal of funds in less than a business day
5. Wide Coverage
Payment to your suppliers in 200+ countries with digital currencies
Benefits of Cryptocurrency Payment Gateway
Such gateways are built on top of the blockchain ecosystem, and come with a range of benefits, including record immutability and transaction transparency. Moreover, the blockchain's decentralisation will eliminate intermediaries like banks, thereby speeding up transaction processing and shortening payment processing time. Therefore, the system promotes the use of digital currencies and helps popularise decentralised gateways. Compared with more traditional systems, cryptocurrency payment gateway has more distinctive advantages. The processing of crypto payments becomes very fast when there is no intermediary. It can even be done within 10 seconds, allowing merchants to accept different types of cryptocurrencies.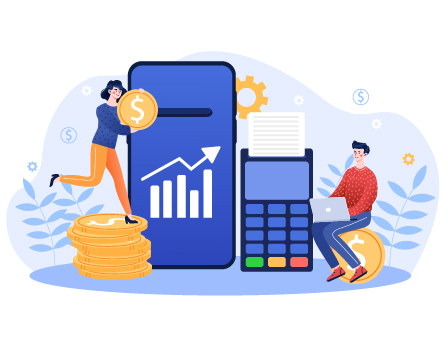 There are many reasons for SMEs to integrate cryptocurrency payment gateway, but the following reasons are considered as the primary drivers, such as major payment companies have already adopted a crypto payment gateway, and world-leading tech companies like Tesla have made big crypto buys, as well as the rapid increase in demands from customers for cryptocurrencies as an accepted payment option etc. These have all helped drive businesses to explore their own ways to use such gateways, and Payment Asia's value proposition is to provide you with the right solution that can bridge the gap between digital and fiat currencies.
How It Works?
It may sound unfamiliar to those who are not familiar with the field of digital currency, but understanding the mechanics of our crypto payment gateway is not difficult. Our solution is powered by blockchain technology, and it replaces credit cards with digital wallets, requiring merchants to open merchant accounts for accepting cryptocurrency payments. The transactions take place on a decentralised peer-to-peer network, where nodes exchange payment data, perform verification, and send it to the distributed ledger. The wallet addresses contain the identities of the payer and payee.
Whenever a block containing data is added to the chain, the blockchain saves the transaction details while ensuring the immutability of the transaction. Hence, our crypto payment gateway allows people to send cryptocurrencies for specific products or services through a decentralised payment model. Our crypto solution, which accepts global clients to pay in cryptocurrency and settle fiat currency to the merchant. Here are the steps to explain how our cryptocurrency payment gateway works in the real world:
      Client wants to deposit USD 1,000 to the Merchant

      The gateway will provide an exchange rate on the crypto the Client selected

      Client's crypto balance gets deducted and converted into USD 1,000

      Merchant will receive USD 1,000 deducting the transaction rate
Our cryptocurrency payment gateway also allows merchants to convert coins to fiat currency at any time with the currency's real-time value. In this way, merchants can accept payments in different cryptocurrencies and deposit funds into their merchant accounts in various fiat currencies. Below are the two default currencies:
The system automatically converts the USD amount into digital currency on the checkout page

Customers send the digital currency amount to the wallet address

Payment status is shown as "successful" when 1/3 block is processed

Digital currency is automatically converted back to USD to minimise merchant's FX risk

USD balance is updated in merchant's portal, and merchant can initiate pay-out to bank account anytime
System automatically converts the USD amount into digital currency on the checkout page

Customers send the digital currency amount to the wallet address

Payment status is shown as "successful" when 1/3 block is processed

Digital currency is saved in merchant's crypto wallet

Merchant can withdraw digital currencies to any crypto wallet or convert digital currencies into fiat currencies
Integrate Payment Asia's Cryptocurrency Payment Gateway Seamlessly
Real-time Balance Checking
Transaction History Records
Digital/Fiat Currency Conversion
Initiate Pay-Out to 200+ Countries
About Using Our Crypto Payment Gateway – FAQs:
1. What types of digital currencies are currently accepted by your solution?
We accept a range of major digital currencies, such as Bitcoin (BTC), Ethereum (ETH), Tether (USDT ERC20), Tether (USDT TRC20), Tron (TRX), Huobi BTC (HBTC), HUSD, Touch Social (TST), Paxos Standard Token (PAX), True USD (TUSD), and USD Coin (USDC). 
2. How does your crypto payment gateway keep my user and transaction data safe and secure?
Our system uses a secure peer-to-peer system for transactions. You can directly pay or receive currency through the system by integrating our decentralised cryptocurrency payment gateway into your existing payment model. As there is no third party in our payment process, so you can access our crypto payment gateway securely without worrying about the possibility of leaking your user and transaction data. 
3. What can I do if I have technical problems during the payment or collection process?
If you encounter any technical issues while paying or collecting, you can contact our dedicated team of consultants by phone (+852 3008 8337), via WhatsApp (+852 9165 1125) or by email ([email protected]), and they will be right with you. 
Disclaimer: 
This page is intended for general informational purposes only, and the contents hereof are subject to change without notice.  It is not a commitment to deliver any features or functionality, and should not be relied upon in making purchasing decisions.  The information contained in this page is provided on an "as is" basis without any express or implied warranty of any kind, including, without limitation, warranties of non-infringement of intellectual property or fitness for a particular purpose.  Payment Asia makes no representations or warranties as to the accuracy, completeness, suitability or validity of any information, and shall not be liable for any errors or omissions, or for any damages resulting from the use of or inability to use this information. The role of Payment Asia will merely be a technical integrator and no contractual obligations are formed either directly or indirectly by this page.The information provided in this page does not, and is not intended to, constitute legal advice.  Please consult your own lawyer with respect to your situation, including, without limitation, the legality and legitimacy of cryptocurrencies in your jurisdiction.